Accounting : Tally Classes in Pathankot
A Tally course is a 1-3 month long program course. With the help of tally course you will understand the software. In tally course you  learn the concepts related to stock management, accounting, GST and tax deduction from source calculation and modifying company details, etc.
What is tally?
Tally is used to automate and integrate all your business operations. Tally ERP 9 is the latest version of tally. Tally ERP 9 Software is one of financial accounting system which is most used in India. It is completely enterprise software for small and medium enterprises.
With the help of Tally's computer course you record company's transactions quickly and easily. Create and manage vouchers, masters, and reports to document business transactions. It helps you manage all of your companies critical accounting operations. Those who are interested in accounting tally is a good choice. The Career in Tally is good choice. Tally can help the persons in changing working departments, land opportunities etc. Tally helps to change career paths, or manage their own businesses. Tally helps in manage their own business.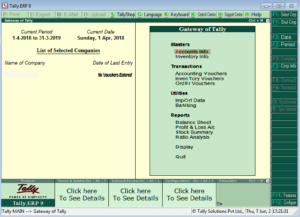 Is Tally useful in future?
Yes tally is useful in future. Tally helps for the increase your businesses and boost job possibilities. Accounting and taxation course are better future scope.
What is Tally in scope?
Tally is an advanced accounting tool that helps companies manage operations and maintain accounting data. Tally helps companies to avoid losses. Companies are seeking accountants with Tally skills. Tally  create productive opportunities in numerous companies in India. As  well as worldwide.
VIP Studies in Pathankot
Vinayak institute of professional studies is the best coaching center in Pathankot for tally courses. It provides best knowledge of tally with training classes. In the tally course, students get to learn accounting, inventory, etc.